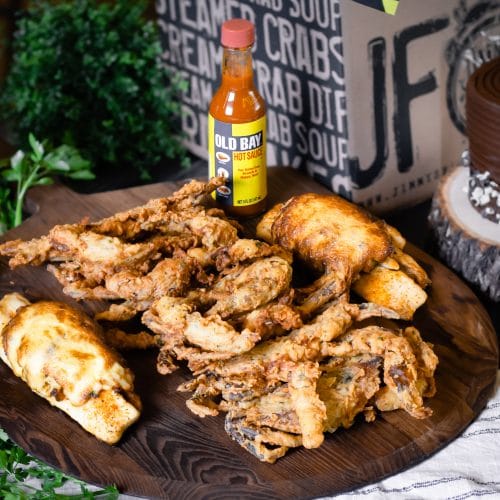 Find yourself back in Maryland with these:
This Famous Gift box includes:
6 Soft Shell Crabs
Two Crab Imperial Rockfish
1 Six inch Smith Island Cake
1 Old Bay Hot Sauce
Cooking instructions for crab cakes:
Set oven to 425 and bake for 10- 12 min.
If desired reshape crab cakes.  Place in a shallow baking pan.  Melt about a ½ cup of butter and pour over crab cakes.  Pour about 2 oz. of water at the bottom of pan to keep crab cakes moist and free from sticking.  Dust tops of crab cakes with Old Bay Seasoning.  For best presentation plate with a slice of lemon and parsley sprigs.
Heating instructions for soup:
a Heat Maryland crab soup over medium heat, stirring occasionally, until hot.
To reheat Cream of Crab soup, use low heat, stirring frequently.  Be careful not to boil soup.  Boiling may cause ingredients to separate.
Heating instructions for Crab dip:
Set oven to 350 and bake for about 15 min.
Pour crab dip into a shallow baking dish.  Bake for about 15 minutes or until dip is hot and bubbly.  Serve hot with slices of crusty French bread or crackers.  If desired dust with additional Old Bay before serving.
Resources