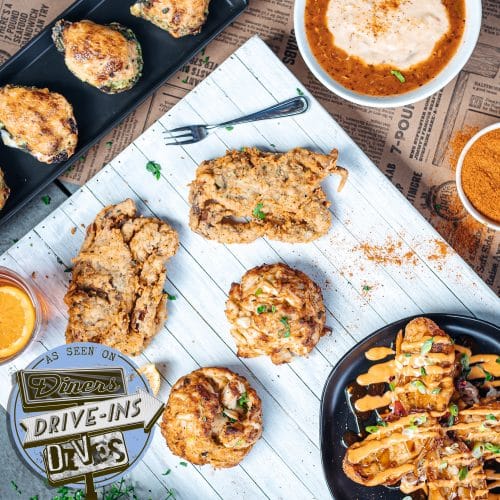 Diners Drive-Ins and Dives Box
Try everything Guy did!
2 Colossal Crab Cakes 8oz
1 order of Crab Cake Egg Rolls (two egg rolls total)
2 Soft C

rabs

Jumbo (raw, ready to fry)
Half and Half Soup Pint – (half pint Maryland crab and half pint cream of

crab

)
6 Jimmys Oysters – topped with Oyster Rockefeller and

crab

imperial (Ships raw, ready to bake)
Add Guy Funko Pop to your collection! (While supplies last)
PDF Instructions
Crab Cakes
Video
Baked or Broiled
Preheat

oven

to 425°.
Reform your crab cakes into a ball or patty shape to ensure the crab cakes do not fall apart while cooking(after all, there isn't much filler)
Place your crab cakes in a

shallow baking pan

Pour

1/2 cup melted butter

over crab cakes.
Pour 2oz of water into the pan
Place the crab cakes in pre-heated oven for 25-30 minutes or until the top is golden brown. Ovens vary.
Dust with

old bay seasoning


Smaller crab balls bake in 8-10 minutes.
Deep Fried
Preheat fryer to 325°
Reform your crab cakes into a ball or patty shape. The crab cakes should be as cold as possible.
Fry crab cakes until golden brown or longer if you like them crunchy.
Check internal temperature to be at least 140°. If it's not, place in a 350° oven for 5 minutes or until desired temperature is reached.
Half and Half Soup
Cream of Crab Video
|
Maryland Crab Video
Transfer into a

stove pot

Heat to at least 145° stirring constantly (especially cream of crab!)
Combine both soups with equal parts Maryland Crab and Cream of Crab
Crab Cake Egg Rolls
Preheat oven to 375°
Transfer egg rolls onto a

baking sheet

Bake in pre-heated oven for 5-8 minutes
Garnish with oriental slaw (included)
Serve with mango ponzu sauce and spicy mayo (included)
Soft Crabs
Video
Lightly dust the soft crabs in

seasoned flour

(preferably with Old Bay) to coat on both sides.
Heat

oil

in a

skillet

over medium-high heat until shimmering hot. Add a little

butter

and swirl the skillet to melt it.
Add the crabs top side down and cook until browned, about 2-3 minutes.
With tongs, flip the crabs and cook until red and an instant-read thermometer inserted in the center reads about 145°
Transfer crabs to a large paper-towel-lined plate to drain briefly. Plate and serve with lemons!
Jimmy's Oysters
Video
Preheat oven to 425°.
Place the oysters on a

baking pan

.
Bake the oysters for 15 minutes.
Remove the oysters and place a tablespoon of imperial glaze on each oyster.
Bake again until the imperial glaze has brown spots (about 4-5 minutes)
Plate and serve!