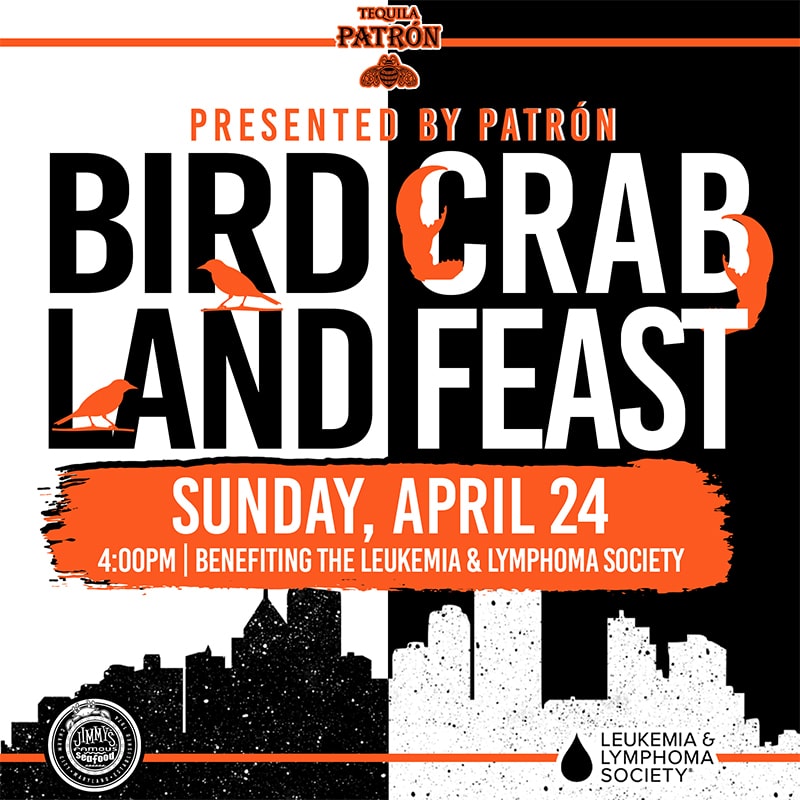 Birdland Crab Feast Apr-24
This exciting event sold out in record time! We do still have outdoor seating options for those looking to join the fun! Your table will be on our brand new outdoor deck, and you will be able to move around as you please. You will enjoy all the same perks as the original ticket purchasers!
We can't wait to celebrate our new partnership with The Baltimore Orioles with Birdland! Join us for a very special crab feast during the team's West Coast Showdown with The Angels. The party will also serve as a fundraiser for The Leukemia & Lymphoma Maryland Chapter!
We are thrilled to introduce the first ever Birdland Crab Feast, aimed to unite the men & women who make up one of baseball's most passionate online fan bases! For only $65, you'll be treated to a 3-hour party which will include all of the following in our brand new Jimmy's LIVE Bar…
Unlimited supply of delicious Maryland Steamed Crabs! Enjoy your favorite crustaceans while you watch The Birds!
A commemorative "Birdland" Crab Mallet!
A delicious and extensive buffet personally prepared by Chef Tony! We will ensure even those who aren't trying to crack open crabs will have plenty to enjoy!
Bottomless Beer & Wine! Enjoy over 10 choices – including Heavy Seas, Modelo, Kona Big Wave, Guinness Blonde, and more!
Opportunities to win Orioles memorabilia, t-shirts, and more!
We also have VIP Packages available. VIP Ticket holders will receive a gift bag complete with a t-shirt, a limited-edition Guy Fieri Funko Pop, key chain, and coozie! VIPs will also receive a complimentary Patron Margarita upon arrival! Please note these packages are limited.
We'll also have raffles and silent auctions to help raise money for LLS, one of our most beloved charities. Fans will be able to enjoy Skee-Ball, Billiards, and more during the party as well!
This event is family-friendly, but limited to only 70 tickets sold in our efforts to keep it intimate and quaint! Wear your orange, bring an appetite, and 
#GetFamous
!