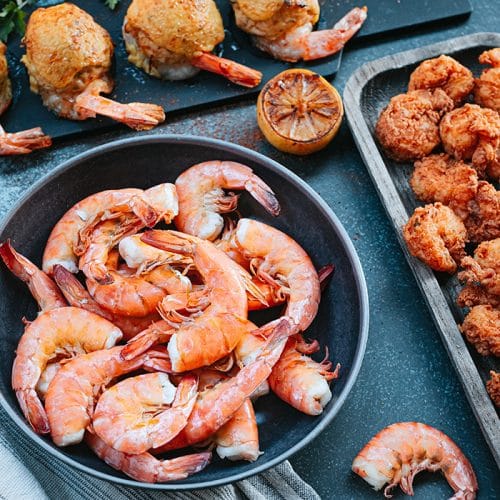 4 Stuffed Shrimp (Raw)
1 lb 26/30 Shrimp (Raw with breading on side)
1 lb XL Steamed Shrimp
1 lb Shrimp Salad
PDF Instructions
Steamed Shrimp
Video
Bring your

pot

to a steam. Use a rack to keep the shrimp above water level. Feel free to put a little

beer and vinegar

in the water as well as well as some extra seasoning!
Reheat 3-5 minutes.
If microwaving shrimp, cover with wet towel and microwave for 1 minute.
For either method, test a shrimp to check if the meat is hot, but be careful not to dry them out!
Fried Shrimp
Video
Bread shrimp using provided breading.
Fry shrimp for 4-5 minutes at 350° until golden brown.
Serve with cocktail sauce, for dipping.
Shrimp Salad
Delivered ready to serve! Prepare to your liking… Serve on toasted bread with lettuce and tomato, or enjoy it with a spoon! Yum!
Stuffed Shrimp
Video
Preheat oven to 425°
Reform stuffed shrimp into a circular shape.
Place stuffed shrimp onto

baking sheet

Pour 1 tablespoon of

melted butter

on each stuffed shrimp. Pour a little bit of WATER on the pan to prevent the stuffed shrimp from sticking(water will most likely evaporate by the time they are finished. Add more water if needed.
Place stuffed shrimp in pre-heated oven for 15 minutes. Ovens vary, so please check every five minutes. Take the stuffed shrimp out when the shrimp are cooked and the top is starting to brown.
Pour the imperial glaze over the stuffed shrimp (as much or as little as you'd like) and place back in the oven for 4-5 minutes until imperial glaze browns a little.